A gear is a circular machine element spinning with teeth that may be cut, or in the case of a cogwheel or gearwheel, they can be inserted. These teeth, known as cogs, mesh with another toothed part to transfer (convert) torque and speed. The fundamental idea underlying how gears work is comparable to how levers work. Cog is another colloquial term for gear. A power source's speed, torque, and direction may all be altered via geared devices. As they are created for specific uses where a conventional-sized gear cannot fit, little gears are no different. Some of these include use in tiny electronics, toolkits, workout equipment, and medical gadgets. Read More…
Small Gears
There are a wide range of gears out there, and each type serves a specific purpose within an application. Small gears are no different, as they are designed for certain applications where a standard sized gear cannot fit. Some of these applications include, in medical devices, tool kits, and exercise equipment or in small electronics. They can also be found in applications where large gears are present, such as industrial machinery or in automobiles.
Materials of Small Gears
The following materials might be employed in the creation of a little piece of gear:
AVC, Nylon, Delrin, Silicon-Manganese, High-Temperature Steel, Manganese Steel, Steel, Special Bearing Steel, Aluminum, Cast Iron, 303 Stainless Steel, Molybdenum Steel, Nickel-Chromium Steel, 17-4 Stainless Steel, Carbon Steel, Chromium Stainless Steel, Chromium-Molybdenum Steel, Chromium-Vanadium Steel, Nickel-Chromium-Molybdenum Steel, or Bronze.
Types of Small Gears
Small gears can be categorized based on their use, pitch, and quality, much like their larger power transmission industry counterparts. Three major categories of miniature gears are used:
Precision or instrument gears: This category includes gears typically of reasonably fine pitch and tiny in diameter (up to 120 mm). The major focus should be motion transmission, frequently paired with high-indexing accuracy and little backlash. Their accuracy ranges from extremely poor to very high.
Low-power gears: These gears' main functions, ranging from a few gfcm of torque to around 750 W (1 hp), are motion transmission and moderate or medium power needs.
Horological gears: A unique class of tiny gears employed in clocks and watches are not covered here.
Construction of Small Gears
Various techniques are employed to make gears of all shapes and sizes, both large and small.
Since it is used to produce several units of a single type of gear in identical shape and size, gear forming is perhaps the most used procedure.
For almost all manufacturers, the process begins with creating a mold of the necessary gear by client specifications and needs. From there, the process can employ a variety of different forming techniques.
Construction techniques include Injection molding, roll forming, forging, casting, and several other techniques.
Cutting the gear is another step in the process, which may be accomplished using various techniques such as broaching, shaping, lapping, hobbing, and milling.
After your gear has been formed and cut, it must go through what is referred to as the finishing process where it will be polished.
Working of Small Gears
In a small/big gear setup, the large gear will not have finished a full rotation hen the tiny gear has made one.
As a result, the smaller gear rotates more quickly than the bigger gear since it completes more rotations in a given time.
When two gears are near one another, the teeth of one gear exert force on the teeth of the other gear.
Since the shaft axes of the two gears are connected by a line created by the contacting teeth, this force will have both a radial and circumferential component.
In calculations, the radial component pulls the shaft in one direction and has no effect on how the gears work; the circumferential component is essential.
Thus, the rotation of the gears is caused by the circumferential component of force.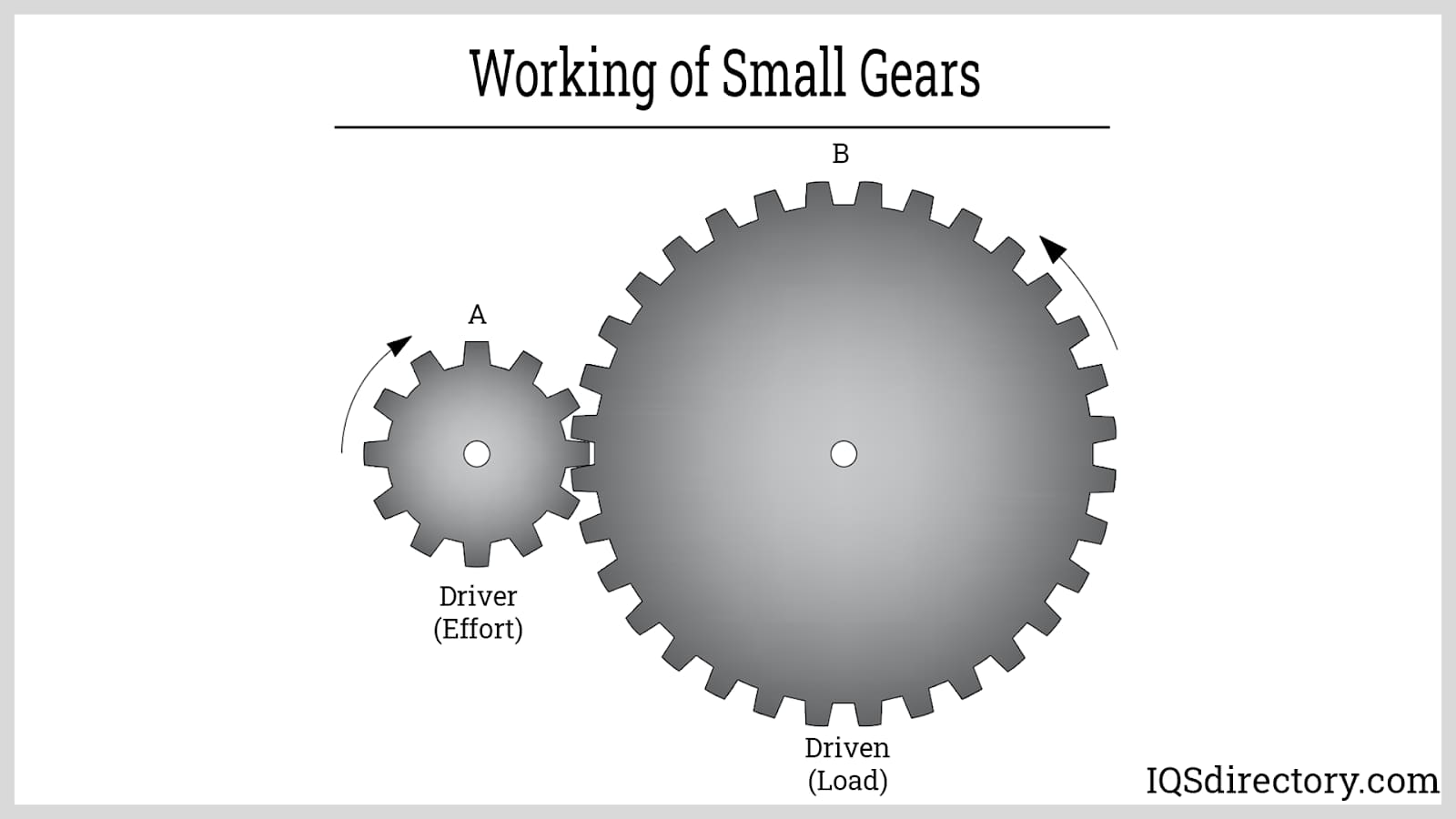 Miniature Gear Specifications
Use: pumping, cutting, and various other tasks are performed by tiny gears in biomedical equipment
Number of Teeth: up to 20 teeth at 0.05" diameter
The minimum diameter is 0.05."
Diametral Pitch: 250 DP and above
Face Width: 0.01 or fewer inches,/li>
Tolerances: the micro gear designs are durable in keeping very tight tolerances. Up to +/-0.0001"
Quality Control: compliant with MIL-I-45208A, MIL-STD-45662A, and ISO 9001:2000 standards for general military quality control
Wait Time: the usual lead time for orders of small gear is eight weeks
Advantages of Small Gears
Viable when less torque is needed
Cost-savings when a reduced gearbox ratio is needed
Potential for additional savings by using a smaller gearbox
Fewer requirements for a smaller design envelope
Lessened backlash in a linear gearbox
Enhanced rigidity of the linear gearbox
An increase in the system's resonance frequency
Applications of Small Gears
Small instrumentation gears and custom gears are in demand from the biomedical industry and other sectors.
Low-power gears include a wide range of medium-duty gear applications in commercial goods such as toys, small industrial machinery, household appliances, and power-driven hand tools.
Applications for precision gears include computer drives, automated control systems, servomechanisms, and instrument drives.
Small-precision applications like watches frequently employ horological gears.
Choosing the Correct Small Gear Manufacturer
To ensure you have the most productive outcome when purchasing small gears from a small gear manufacturer, it is important to compare several companies using our directory of small gear manufacturers. Each small gear manufacturer has a business profile page highlighting their areas of experience and capabilities, along with a contact form to directly communicate with the manufacturer for more information or request a quote. Review each small gear business website using our proprietary website previewer to quickly learn what each company specializes in. Then, use our simple RFQ form to contact multiple small gear companies with the same form.
Small Gears Informational Video