A kind of cylindrical gear that has teeth bent into a helix shape is called a helical gear. In contrast to spur gears, a properly constructed helical gear may have a greater average connection ratio, which can lessen noise and vibration. When used as power transmission mechanisms, helical gears primarily serve to increase torque and reduce speed between rotating shafts. They can be broadly split into two types: those that transmit energy between parallel parts and those that do not, often presented as cross-axis gears, and transfer energy between non-parallel parts. Read More…
Helical Gears
Helical gears are circular in shape with teeth that have been cut in a helical path at an angle relative to the gear's axis of rotation. Helical gears can also be aligned parallel or crossed, allowing gears to transmit torque perpendicularly.
While a helical gear is cut at an angle to the circulation of the gear blank, it has the same involute tooth shape as a spur gear in section view. The helix angle is the name given to this angle.
Types of Helical Gears
Double helical gears
Double helical gears are sometimes used to neutralize or offset the forces required to overcome axial thrust. The hands are in opposition, but the helix angle is the same, and the entire face is divided into two equal halves. Because the axial thrusts are opposed, the forces are contained in the gear and are not transmitted to the bearing. Advantages include a high loading capacity and dependable transmission. Due to their advantages, double helical gears are often employed in gas turbines, generators, prime movers, pumps, fans, and compressors in nautical ships and construction machinery.
Herringbone Helical Gear
A particular kind of double helical gear is a herringbone gear. The herringbone gear has two sets of teeth—one set on the right hand and one on the left hand—on a single gear. The thrust of one set of gear teeth cancels out that of the other when there are two sets. Each of this gear's spiral grooves, visible from the top, resemble the letter V, creating a herringbone pattern. Due to their pattern, herringbone gears do not produce a further axial load.
Helical Rack and Pinion
The spinning motion of the circular pinion is converted into linear motion at the rack by a special sort of linear actuator known as a helical rack and pinion. Despite the fact that a rack is simply a straight bar with gear teeth, it may also be thought of as a component of a gear with an unlimited radial range. For linear motion involving movement lengths more than 2 meters, helical racks and pinions are an affordable option. When coupled, they convert rotational motion into linear motion. When the pinion is rotated, the rack is driven in a straight path. On the other hand, the pinion will rotate if the rack is shifted linearly.
Bevel Helical Gears
Helical bevel gears are angular gears with the drive shaft of the gear unit rotating at 90 degrees with respect to the motor's rotor shaft, though they can also be configured to work at different angles. Shafts may be hollow or solid. Bevel gears are used for rotating a shaft in a different direction. Applications using angular geared motors should use gearboxes with helical bevel gears, which can provide high power density and output torque. A cone-shaped base at the device's edge houses the curved teeth that give bevel helical gearboxes their name.
This approach provides a stable and quiet operation by generating rotating motion amid non-parallel shafts. The spiral gear teeth interlock with other helical gears as is common. The contact gradually develops over the length of each tooth beginning at one edge of the gear.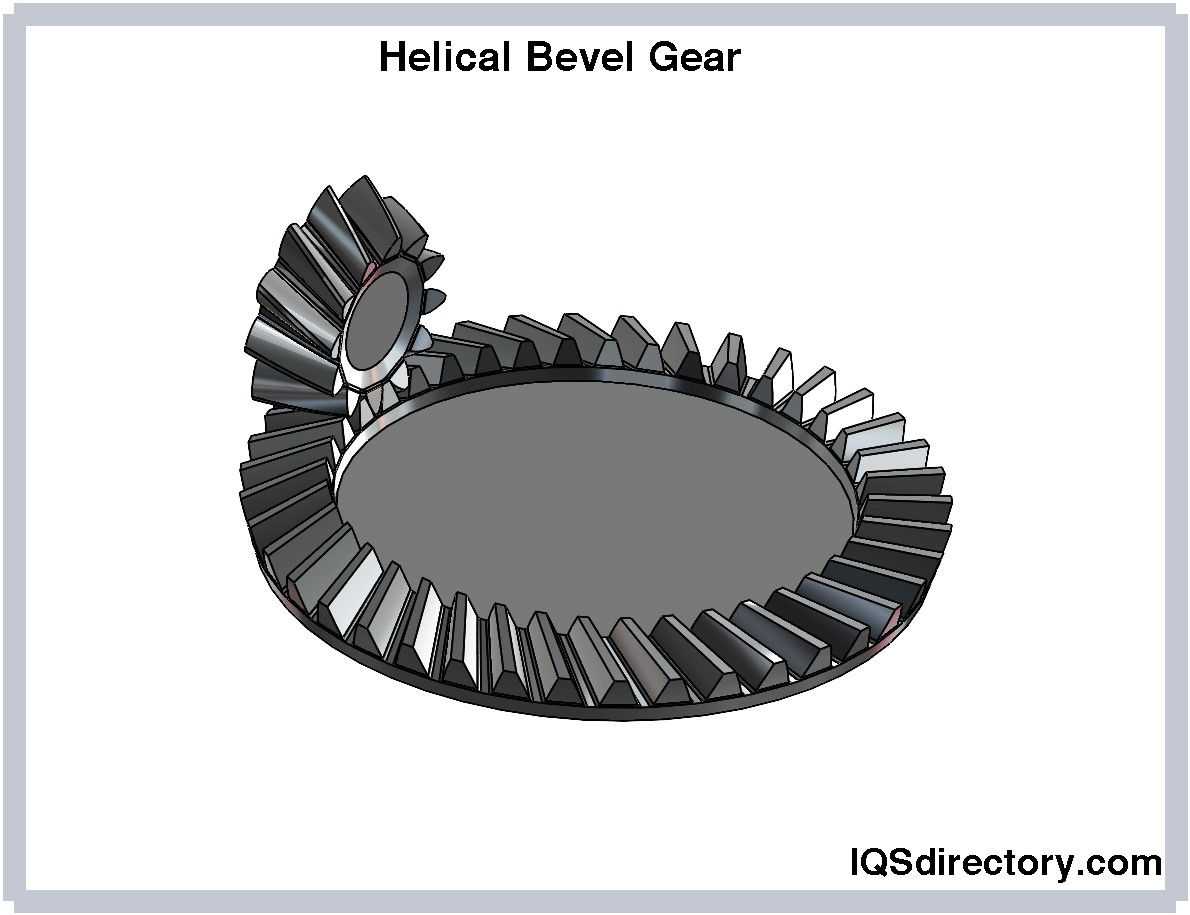 Applications of Helical Gears
Fast-moving industries: Helical gears are ideal for high-speed applications because they endure less wear and friction than conventional gears while having a significant force-transfer capacity.
Automotive sector: Helical-type gears used in the automotive sector are more robust than spur gears because they have more teeth that can mesh together to create a bigger surface area that can support the weight. As a result, heavy-duty automotive applications like gearbox operations are a great fit for helical gears.
Production Engineering: Due to their strength and endurance, helical gears are used in the machinery of the majority of production industries.
Benefits of Helical Gears
In comparison to other gear types, helical gears can withstand a greater torque shift. They accomplish this due to their symmetrical, well-designed gear teeth, which are good for tough jobs. In addition, helical gears have a greater strength output than spur gears. Helical gears may also handle higher loads than spur gears because the spiral gear tooth is bigger and diagonally positioned. In exchange for the same tooth size and equivalent width, helical gears are more robust.
They have a flexible and strong design. These gears may have parallel or perpendicular shaft couplings, depending on the function of the machinery. They enable machinery to be modified to meet particular needs, increasing productivity.
Helical gears and gearboxes are sturdy enough for high-load applications. The automotive industry can utilize them to transfer force and motion between shafts at a right or parallel angle.
Choosing the Right Helical Gear Manufacturer
To ensure you have the most constructive outcome when purchasing helical gears from a helical gear manufacturer, it is important to compare several companies using our directory of helical gear manufacturers. Each helical manufacturer has a business profile page highlighting their areas of experience and capabilities, along with a contact form to directly communicate with the manufacturer for more information or request a quote. Review each helical gear business website using our patented website previewer to quickly learn what each company specializes in. Then, use our simple RFQ form to contact multiple helical gear businesses with the same form.
Helical Gears Informational Video