Used for power transmission applications in cars, trucks, other self-powered vehicles and industrial machinery requiring perpendicularly transmitted torque, rear end gears are crucial in automotive and other transportation industries since rear end gears ensure that different rotational speeds are possible when turning corners. Read More…
Rear End Gears
Find rear end gears manufacturers and rear end gears suppliers from IQS Directory. Refine your search below by location, company type and certification to find rear end gears manufacturers and suppliers. Use the time-saving Request for Quote tool to submit your inquiry to all the rear end gears companies you select.
Commercial Gear & Sprocket Company is proud to be a third generation, family owned, financially solid non-union shop, located twenty miles southeast of Boston in East Walpole, Massachusetts, our company serves a variety of industries across the United States with high quality helical gears and gear-related products. Our company especially takes pride in the attention paid to quality and our commitment to offering superior customer service above all else. Commercial Gear and Sprocket Company has been a leader in the industry for generations, and we have built and maintained our solid reputation by providing the highest quality work and goods, that are delivered on time every time.

Not only do we manufacture the highest quality products, but offer quality inspection for our customers. Commercial Gear and Sprocket is able to trouble-shoot even the most difficult gear , sprocket, chain and gear unit problems. We are consistently able to pin point and solve these problems, which has resulted in our company securing our oldest and largest accounts. With a talented team of dedicated workers who have 120 years of combined experience in the industry, Commercial Gear is able to quickly and correctly evaluate data and come up with solutions to best suit each unique situation.

Commercial gear and Sprocket offers our customer base a wide range of gearing and machining capabilities in an equally wide range of materials. Our company is proud to be a member of the American Gear Manufacturers Association, and our Quality Control Department conforms to I.S.O. 9002 and A.G.M.A Inspection manual 2000-A88. So, whether machining and gear solutions are needed or custom made gears required, Commercial Gear and Sprocket is a one stop shop and anything and everything gear related. Call or visit the company website today to inquire about specific products and services.
East Walpole, MA | 800-491-1073
Request for Quote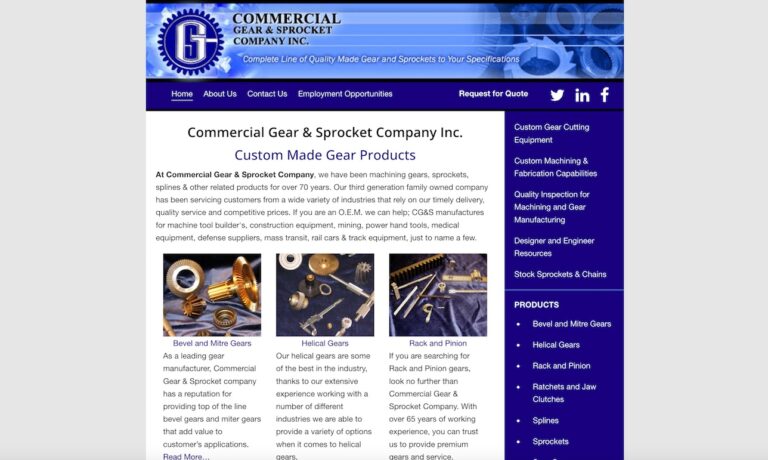 $$$
Get Your Company Listed
Typically constructed using bevel gears, rear end gears can also use spur gears, which are straight-sided along the gear wheel's axis, with straight teeth radiating in alignment with the axis and epicyclic gearing, or planetary gears, which contain one central spur gear, or "sun gear" surrounded by three or more "planet gears."
Early automobiles used spur gears instead of bevel gears; however, epicyclic gearing is being used in more technologically advanced applications. For instance, the Toyota Prius utilizes epicyclic gearing in its automotive drive train in order to apply torque asymmetrically. This type of rear end gear has the advantage of being compact along the length of its axis, which is also called the sun gear shaft.
The typical set up of a rear end gear includes sets of bevel gears, axles, shafts and a differential carrier. Bevel gears may have straight teeth, or they may be spiral bevel gears with curved teeth, similar to helical gears. The bevel gears in the rear end gear are arranged into epicyclic configurations that allow various attached axles to turn at different speeds. The spiral bevel pinion gear is encased within the housing of the final unit and is driven by torque transmitted from the end of the propeller shaft. The pinion gear interlocks with the large spiral ring gear, which is also known as a crown wheel. The crown wheel is attached to the differential carrier, which contains a cluster of four opposed bevel gears in a perpendicular plane. These four bevel gears work by each gear meshing with its two neighboring gears but treating the third gear differently by rotating counter to it instead of meshing.
The epicyclic configurations of the bevel gears allow for two sun gears and two planet gears. The two sun gears are aligned on the same axis as the crown wheel and serve to drive the axle half shafts that connect the wheels. The two planet gears are aligned on a perpendicular axis whose orientation is affected by the crown wheel's rotation. The crown wheel is rotated as a result of the rotation of the differential carrier. Upon rotation, the changing orientation of the axis transfers the crown wheel's motion to the sun gear by pushing on them as compared to turning against them. Since the two planet gears are not restricted from turning against each other, the sun gears can counter-rotate relative to both the crown gear and each other under the same force.
Rear End Gears Informational Video