Use our thorough list of Industrial Gear manufacturers and suppliers in Rear end gears to examine and sort top Industrial Gear manufacturers with previews of ads and detailed descriptions of each product. Any Industrial Gear manufacturers can provide Industrial Gear services to meet your companies specific qualifications. An easy connection to reach aIndustrial Gear manufacturers through our fast request for quote form is provided as well. This source is right for you whether it's for differential gears, speed reducers, helical gears or any other gear needs.
Leading Industrial Gear Manufacturers
↓
Scroll
Companies Serving Near Rear end gears
East Walpole, MA
|
800-491-1073
Commercial Gear & Sprocket Company is proud to be a third generation, family owned, financially solid non-union shop, located twenty miles southeast of Boston in East Walpole, Massachusetts, our company serves a variety of industries across the United States with high quality helical gears and gear-related products. Our company especially takes pride in the attention paid to quality and our commitment to offering superior customer service above all else. Commercial Gear and Sprocket Company has been a leader in the industry for generations, and we have built and maintained our solid reputation by providing the highest quality work and goods, that are delivered on time every time.
Not only do we manufacture the highest quality products, but offer quality inspection for our customers. Commercial Gear and Sprocket is able to trouble-shoot even the most difficult gear , sprocket, chain and gear unit problems. We are consistently able to pin point and solve these problems, which has resulted in our company securing our oldest and largest accounts. With a talented team of dedicated workers who have 120 years of combined experience in the industry, Commercial Gear is able to quickly and correctly evaluate data and come up with solutions to best suit each unique situation. Commercial gear and Sprocket offers our customer base a wide range of gearing and machining capabilities in an equally wide range of materials. Our company is proud to be a member of the American Gear Manufacturers Association, and our Quality Control Department conforms to I.S.O. 9002 and A.G.M.A Inspection manual 2000-A88. So, whether machining and gear solutions are needed or custom made gears required, Commercial Gear and Sprocket is a one stop shop and anything and everything gear related. Call or visit the company website today to inquire about specific products and services.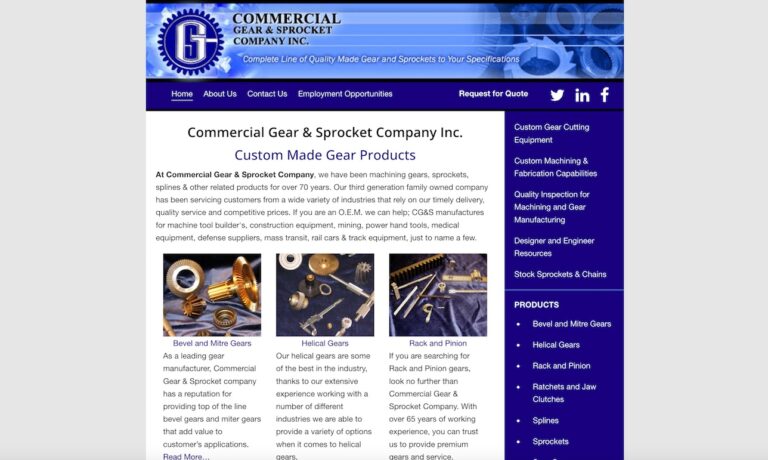 $$$