Use our thorough list of Industrial Gear manufacturers and suppliers in Mississippi to examine and sort top Industrial Gear manufacturers with previews of ads and detailed descriptions of each product. Any Industrial Gear manufacturers can provide Industrial Gear services to meet your companies specific qualifications. An easy connection to reach aIndustrial Gear manufacturers through our fast request for quote form is provided as well. This source is right for you whether it's for differential gears, speed reducers, helical gears or any other gear needs.
Request For Quote
Companies Serving Near Mississippi
Garland, TX
|
972-351-8737
Broadway Gear is the sole US distributor & wholesaler of Changkong Gears, well known as the industry leader in fine module gears, certified to ISO9001:2000 & ISO/TS 16946:2009 & winner of many awards for high quality. The diversity of our custom gears, gearboxes & gear related products is unmatched. Just give us your idea or drawing. More than 40 years custom service of precision fine pitch gears!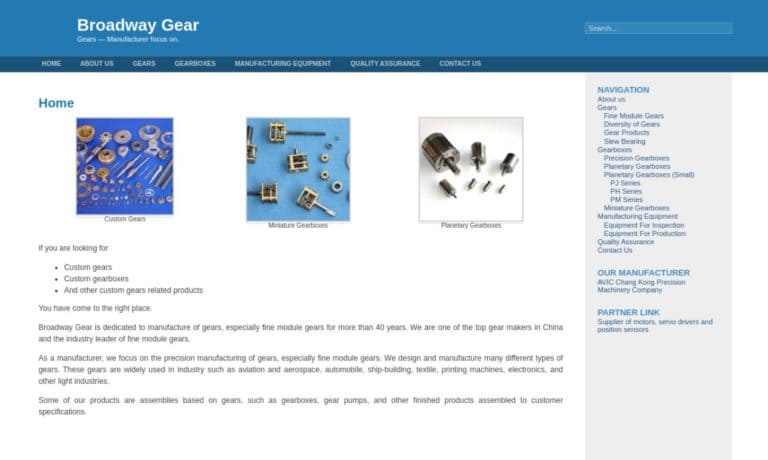 $$$
Arlington, TX
|
817-258-3000
Specializing in sprockets, bevel gears, helical gears, spur gears and worm gears, Martin Sprocket & Gear offers quality products to meet a variety of needs. Our products include bushings, couplings, V-belt sheaves, sprockets, gears, screw conveyors and elevators, synchronous drives, tools, and heavy duty pulleys.
$$$
Dallas, TX
|
214-330-7271
We are a Texas-based manufacturer of precision and commercial gears (spur, helical, worm), roller chain sprockets and timing belt pulleys. The company has been producing gears for more than half a century. Through our no-compromise approach to quality, we have built a reputation as a reliable supplier of quality gears that can be depended on to operate in even the most difficult conditions.
$$$